Order Now
About Us
Contact Us
Privacy Policy
Home
NEW PRODUCT: Joni's Heart / A Caring Heart Keychain (see below to order keychain) ~ Our customers asked for something friends and family members can carry with them and Joni's Heart keychain has been created and is now available.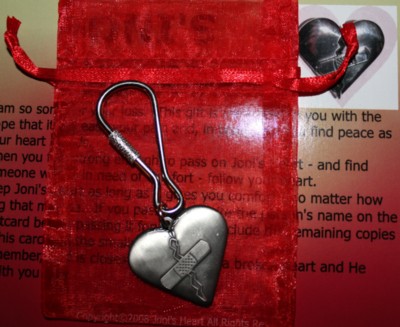 ACTUAL PIN SIZES FOUND ON HOME PAGE (click here: HOME PAGE)
Because Joni Stockdale and her family participated and supported the Special Olympics, in Joni's memory, 20% of the profit from this pin will be donated to the Special Olympics Indiana.
All Caring Heart Ronald McDonald House Charities® special orders will benefit the Ronald McDonald House Charities ® of Indiana-Michiana, Inc. (30%). The pin, designed to be given to volunteers of the many Ronald McDonald House Charities, comes on a personalized card (see below):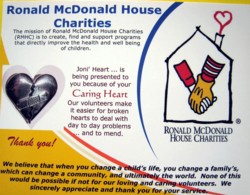 To order the special Caring Heart (created for Ronald McDonald House Charities, Inc. ®), please request an order form and special pricing from: Carol Dawson Email: Cdawson@eeoguidance.com / (812-284-2993) or Kellie Montgomery (kmontgomery@rmhcmichiana.org)
All orders will include the card seen here. Special cards can be made for your organization or charity.
On the back is space where sponsors may be thanked (and space to write a special note to the volunteer).


Copyright * 2008 Broken Hearts, Inc.® All rights reserved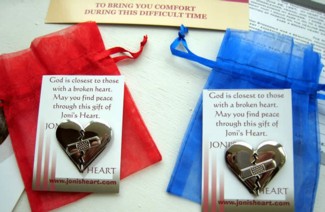 Included in the Broken Heart (pin) package is:
The

Joni's Heart

Pin, displayed in a red or blue organza drawstring bag
Note card with the history of

Joni's Heart

Card for the owner to sign his/her name and (when or if appropriate) forward

Joni's Heart

to another person who is grieving from a

broken heart

Note card for you to write a note to the recipient
Magnet for the owner to keep
Included in the Broken Heart keychain package is:
The

Joni's Heart

Keychain, displayed in a red, blue, ivory organza bag with drawstring
Note card with the history of Joni's Heart
Note card for you to write to the recipient
Magnet for the recipient
Copyright * 2008 Broken Hearts, Inc.® All rights reserved
Extra cards can be ordered for the cost of exact shipping alone (no handling fee). Contact us at (812) 284-2993 for additional note cards with the history of the pin. If you would like the pin to be sent directly to the recipient, you may provide us with text for a personalized note from you to the recipient. You will be able to add the note and shipping address during the checkout process.

For your security, we accept all major credit cards through PayPal only. Please select the color of bag you would like to have. You may increase the number of pins or keychains when the shopping cart opens and displays your order. You will be able to make a personal note during the checkout process. We thank you for viewing our web site and in advance for your order.

Pins


Keychains


| | |
| --- | --- |
| Large Pins | $15.95 each |
| Gold pin w Red bag | |
| Gold pin w Blue bag | |
| Gold pin w Cream bag | |
| Silver pin w Red bag | |
| Silver pin w Blue bag | |
| Silver pin w Cream bag | |

| | |
| --- | --- |
| Small Pins | $10.95 each |
| Gold pin w Red bag | |
| Gold pin w Blue bag | |
| Gold pin w Cream bag | |
| Silver pin w Red bag | |
| Silver pin w Blue bag | |
| Silver pin w Cream bag | |

| | |
| --- | --- |
| Silver Keychains | $18.50 each |
| Silver Keychain w Red bag | |
| Silver Keychain w Blue bag | |
| Silver Keychain w Ivory bag | |

For orders of less than 26 Pins: $15.95 each for the large pin / either silver or gold

$10.95 each for the small pin / either silver or gold


For orders of less than 26 keychains: $18.50 each (polished silver only)


Shipping to same address: 1-6 pins $6.95 / 7-30 pins: $9.95 / 31 or more pins: Free

Discount available for 26 or more pins or keychains (when payment can be made by check). Call (812) 284-2993 for special pricing.

Although packages usually arrive within a couple of days after the order is placed, we ask that you allow 7-10 business days for delivery. Packages will be shipped via U.S.P.S.

The larger pin is beautiful on a dress, jacket, shirt collar, or coat, while the smaller pin is perfect for a lanyard, jacket lapel, or coat collar. Pins below are larger than actual size. (actual size can be seen on home page). KEYCHAIN HEART IS THE SLIGHTLY SMALLER THAN THE LARGE HEART PIN (1.25") - In silver only.



Please keep in touch...Jonis Heart will be expanding with different products soon.

Copyright * 2008 Broken Hearts, Inc.® All rights reserved
© Broken Hearts, Inc. | 212 Pearl Street, Suite #3 | Jeffersonville, IN 47130-3336 | (812) 284-2993